So it's 9:45 PM on a Wednesday night, in other words, Hump Day. Tomorrow is my Big Day of Classes and Commuting, in the morning at Ohio State, and then on to Delaware County for my seminary class and back home at evening rush hour.  Yikes.
And no, I haven't gotten all my reading done for either class.  The edition of Augustine's Confessions that we are reading for Medieval Lit uses a tiny font with too many lines of type squeezed onto each flimsy page.  These are not great conditions for eyes that are about to enroll in Medicare.
And I've gotten half of my homework done for the first meeting of my New Testament class at MTSO, a graduate Methodist seminary in the next county north of here.  I'm hoping to get there early enough from Ohio State that I can do some more reading in the library there, which I frequented last year when I took Hebrew Bible (aka Old Testament).
Today I also stopped by the Ohio Organizing Collaborative (OOC) and offered to volunteer from noon to three PM every other Monday in their office. Molly Shack kindly agreed to take me on and even train me in Excel, which I haven't used in 15 years, and even back then I wasn't all that adept at it.  Some of the OOC folks at a recent gathering: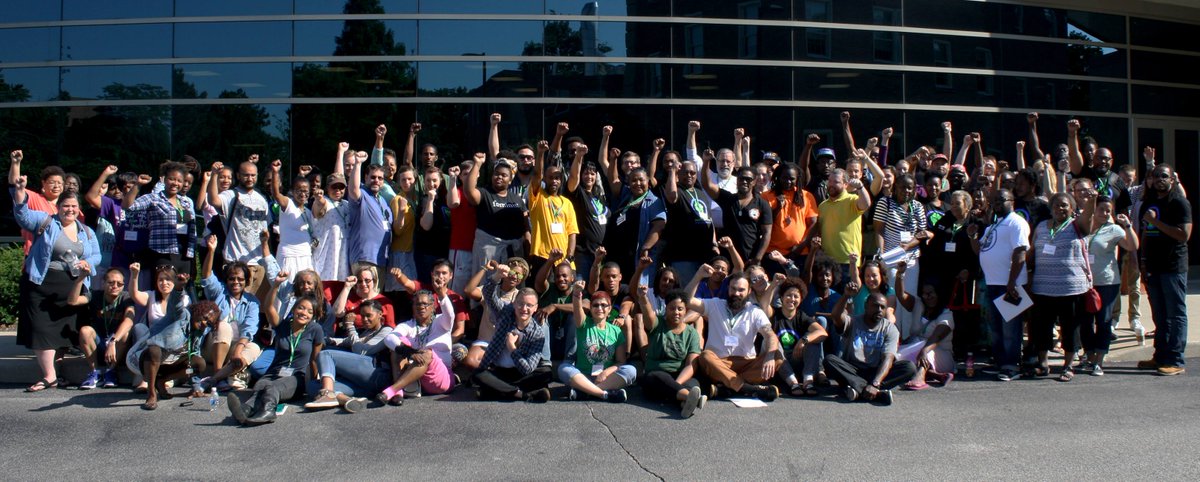 So that means on every Monday I'll be volunteering with my friend Juhi at Summit on 16th at an after-school latchkey program from 3:30 to 6:00, with every other Monday being days that I will be coming to Summit from my hours helping out at OOC.
And Tuesdays I'll be volunteering at the before-school latchkey program at GEMS, down the street from Summit on 16th from 7 to 8:30 AM and then walking to campus to my Medieval Lit class.
Wednesdays will be Hump Days, set aside for homework, household chores and errands.
Thursdays, my super-big commuting and class days at Ohio State and MTSO.
Then Friday and the deliverance of the WEEKEND!  YAY!