American Thanksgiving is over, and Advent is upon us.  But let us not forget the ancient Yuletide!
As a 10th century Icelandic Viking reenactor in the Society for Creative Anachronism, I am getting prepared for the winter here in Ohio.  First of all, I have already received my magnificent sheepskin hat made for me by custom order by Oona of the Etsy shop, Vikings At Your Door.  I can't praise that shop highly enough!  Great service and great products, of which I have several. They are located in Virginia, USA.
Here's the sheepskin hat, which just arrived today:
Oona kept me updated as she was making the hat.  Here is one of the photos she sent me during its construction:
The natural color of the sheepskin hide was dyed dark red (I had my choice of natural, red, or green) and then coated twice with mink oil to soften it and give it some waterproofing.   Oona says that she has let the "fur" of her sheepskin hat go into dreads.  I can either do that or brush it out from time to time to keep it looking the way it does now.  I haven't decided yet.
I also have ordered some Viking things from another Etsy shop that is located in Poland.  It is called AstridReco, and the owner, Katarzyna Smolen, has this to say about their aims and methods in making clothes and other items for medieval reenactors:
By creating this shop we want to share the vision of medieval period clothing interpretation with people who want to "touch the past".
The clothes we try to recreate are supposed to be as close to original as it now possible to know. We use only natural textiles and yarns, trying to choose most natural colors as possible. We stay in contact with textile weavers who have knowledge and experience to produce materials and dyers using traditional methods. Constantly striving to improve skills, knowledge and craft resources we endeavor to make a "perfect" replica one day: the garment interpretation made of handcrafted materials, with original sewing techniques, using replicas of tailoring tools.

In AstridReco you can find only 100% handsewn repicas. We never use sewing machine: all stitches – visible and hidden – are created manually, without any exceptions. If you decide to choose any of our products or you can be sure it is a high quality handcrafted replica, created with attention focused on the authenticity and highest possible care for details.
I ordered a new underdress and apron dress from Kate, as she likes to be called, as well as some other items.  The underdress will be a dark yellow wool and the apron dress will be red wool.  Very festive for the Yuletide/Christmas season!  I will not have them in time for Red Spears Yule Feast in December, but I will have everything ready by Twelfth Night in January.  I hope to go to two different Twelfth Night celebrations.
Kate just let me know that the boots I ordered from her shop are ready.  They are replicas based on leather finds at the excavations at Hedeby. Where and what was Hedeby?  As that article states, Hedeby was the biggest city in Scandinavia during the Viking Age and a very important trading center. It is called the "southernmost Scandinavian town," although now it is a part of modern-day Germany. In the small map below, Hedeby is the red dot.
Fans of the History Channel's TV series Vikings ( see my earlier post, Vikings! ) will recognize "Kattegat" on this map.  It is used in the series as the name of Ragnar Lothbrok's hometown.
Anyway, I digress.  I bring up Hedeby because of the boots I ordered from Kate.  On her shop's site they are called "Hedeby boots."  And here they are:
And underneath them I will wear special socks knitted in a traditional Scandinavian way that is called Nålebinding: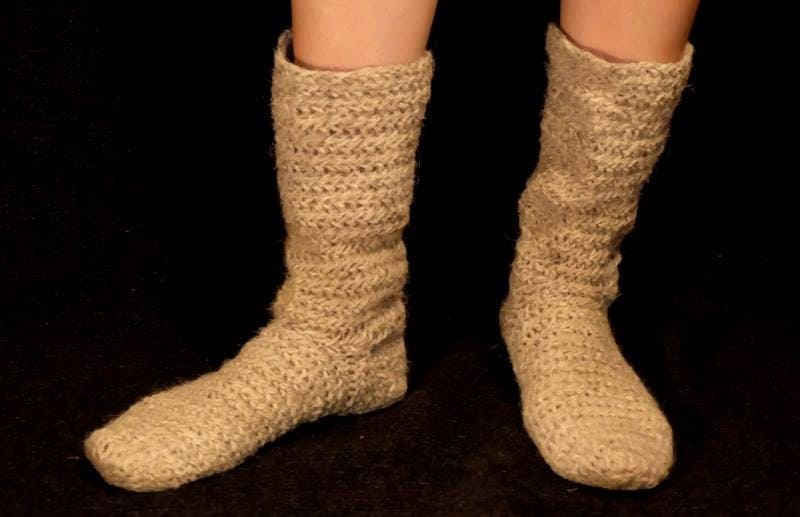 I have also gotten some really great Viking clothes from another Etsy artisan from Sweden, whose shop is named Nyfrid.  Among other things I've purchased from her is this cool Viking hood:
The design is, according to Ingifridh, the shop owner and designer/maker, " Aegishjalmur – 'Helm of awe', icepandic galdr that gives protection and irrestibility in battle."  She also made me the apron dress I'm wearing above and this is how it looked in her Etsy listing:
In one of the Icelandic sagas I've been studying this year, The Saga of the People of Laxardal, the main character, Gudrun Osvifrsdottir is not only the most beautiful woman in Iceland as well as extremely intelligent, she also loved clothes and jewelry.  So do I, as you might have figured out by now. 🙂  Gudrun married four times, but never to her true love.  She's got me beat by one… 😛