Tonight I was supposed to take my lute to the Monday night SCA Sewing Circle at Diana and Ryan's house. Janet VanMeter introduced me to them when we went out to eat after Rose Tourney, back in October, and she started taking me to Sewing Circle with her a few weeks ago. Diana had remarked that she had a degree in voice, and that started me thinking (always a dangerous thing!).
Although I have both played the lute and sung lutesongs as a solo performer, many early music specialists perform this repertoire as a duo, with a vocalist accompanied by a separate performer on the lute. My voice is not what it used to be, and neither are my skills as a lutenist, due to age and injury to my vocal cords when I lived in Istanbul and to bad arthritis in my hands, fingers and shoulders.
Having someone take over the singing, and do it better, too, would leave me room to concentrate more on the lute part. Most of the lute accompaniments to Elizabethan lutesongs are quite difficult, indeed, and being able to devote more of my attention to playing them would be a good thing. So I asked Diana if she would be interested in trying out some lutesongs with me during Sewing Circle, and she said yes. Unfortunately I didn't go tonight because I was still exhausted from the weekend.
What did I do this weekend?
Friday and Saturday I went to Ohio State's Center for Medieval and Renaissance Studies annual symposium on Popular Culture and the Deep Past. This year's event was The World of Harry Potter.
I've read all the J.K. Rowling books in the Harry Potter series and have seen most of the movies, including the recent one starring the adorable Eddie Redmayne (see my review of the movie at Movie Review: Fantastic Beasts and Where to Find Them). Although I don't consider myself a Harry Potter fanatic (unlike, for example, one of my nieces who is tattooed from neck to ankle with Harry Potter scenes), I do appreciate Hogwarts and the realm of magic that Rowling has created. And I wanted to support CMRS in this event. So I went, and of course I went in garb! 🙂 On Friday I went as a medieval Anglo-Norman lady-in-waiting to Eleanor of Aquitaine. The assistant program director, Kylie Harwell-Sturgill, took my photo for possible use in social media about the event:
While I was waiting for the program to begin Friday morning, I met some of the next day's presenters of academic papers relating Harry Potter to medieval studies. They enjoyed my garb, and I told them that my main SCA character is a 10th century Icelandic woman. They wanted to see that costume as well, and I wanted to hear their papers Saturday, so I promised to attend as Unn Olafsdottir, which I did. Several of them were from universities in the UK, which I thought was impressive. And once again I was astounded at how young these professors and Ph.D. candidates are! 😛
Saturday morning there were craftspeople present at the conference, in addition to the academic lectures, as well as a display of rare books and manuscripts about magic and witchcraft that Dr. Eric Johnson, head of the OSU Rare Books collection, and his colleague Pasha Johnson brought along. A fiber artist, Sharon Mech, and I had a wonderful conversation about spinning and weaving. She demonstrated several different ways of spinning and invited me to consider joining the Central Ohio Weavers Guild, which sounds interesting since I'd like to learn how to use the inkle loom to make trim and also how to use a drop spindle to make yarn.
John Gustafson, a woodworker from Lucketts, Virginia, was there with some of his wares, including hearth brooms and hand-carved spoons. He does not use any mechanical tools at all in making his objects. His brooms are made of broomsedge that grows wild in the fields surrounding the rural Virginia roads. He saw the same grass growing along the roadsides here in Ohio, too. His spoons are mostly made from fallen wood that he collects while out walking in the countryside. I succumbed to temptation and got one of the brooms and two cooking spoons, both of which are black cherry. The lighter spoon will darken with age. The broom handle is walnut and the grasses are tied with hemp:
He has a lovely site with very artistic photos of his wares and his tools at Sloyd in the Dark, at which you can order some of his things. Check it out!
I couldn't stay at the Harry Potter conference too long Saturday because I was going to a gallery opening and then had to hurry home to make dinner for my friends Slany and Dan who, among other events, I went with recently to the Vikings exhibition in Cincinnati (see Major Vikings Exhibition). But first, the gallery opening.
You may remember that over Labor Day weekend, the traditional end of summer holiday here in the US, my friends Amol and Juhi and I went to see my artist friend Lisa M. McLymont's solo show during the Short North Gallery Hop. See Labor Day Weekend, Plus Counterfeit Madison. Here is a photo of Lisa and me at that opening, which Juhi took:
And here is the earlier post which contains the portrait Lisa did entitled "Necessary and Beautiful": It's the Weekend! The portrait itself in that post looked like this:
It is a work in graphite and Neocolor II on Mylar, and the image on the right shows the portrait when lit from behind.
Lisa has a new gallery, Blockfort, which is a pretty wonderful development for our downtown arts scene. It is a combination gallery and studio space for a number of artists, and Lisa is one of them. Saturday was the Grand Opening.  Here is what the owners of Blockfort have to say:
Established in 2016, Blockfort is a gallery and studio space located in Columbus, Ohio.

The building, a former auto parts store, now provides work space to over 20 artists and entrepreneurs. The painters, sculptors, printmakers, designers, performers, organizers, and makers comprise some of Columbus' best creative individuals. Together they work to cross-disciplines and form new connections, with an emphasis on quality.

Located in the heart of the Discovery District, Blockfort is just steps away from Columbus Museum of Art, Columbus College of Art & Design, Columbus Metropolitan Library, the Hills Market Downtown and several other cultural and commercial establishments. Blockfort aims to be an active creative hub, a resource for artists & entrepreneurs, and a destination bringing energy to the neighborhood.
Welcome to Blockfort quote.
I wish I had taken photographs while I was there. Doh! They have made a very useful and innovative space. I was especially taken with some of the artists' studios. Oh well. Use your imagination!
But the important part for me of this trip to Blockfort was that I was finally able to purchase Necessary and Beautiful from Lisa! I had told her way back on Labor Day weekend at her other show that I wanted to buy the piece. But then I got ill, and my funding dried up. So on Saturday I went in, hoping against hope that she hadn't sold it to someone else yet. After a big hug, that was my first question of her. And lo and behold–Necessary and Beautiful was still available! She was outside Lisa's studio space hanging in the hallway. Now she hangs in MY hallway (and yes, I call the piece "she," because she is definitely a real person):
Unfortunately, I couldn't get a decent shot of the piece without reflections in it. That's the problem with a glass-covered piece of art. You have to constantly deal with reflections. But you want to protect the artwork. So…
I got two prints from other artists at Blockfort while I was there. One was from Lucie Shearer:
The other from Sherleelah Jones:
But that wasn't it for my acquisitions this weekend. I got some more Guardian Bells in the mail, these to give to my AirBnB hosts when I'm in Iceland this spring. I had gotten several before, for myself and for my younger son. Here are various bells. These are the two for my hosts:
Here are mine, attached to my backpacks and purse:
Guardian Bells are solid pewter good luck charms made in the US. They come in little velvet pouches with an insert explaining the use of bells as a channel for positive energy since antiquity, across cultures, continents and religions. Ringing a bell is supposed to banish evil spirits and is considered good feng shui. They can be used attached to doors as a welcome, on bicycles by serious cyclists to ward off mishaps, on keychains, backpacks, or wherever you want to grant a tradition of protection. Given as a gift, they have twice as much power. There are many different designs.
I also got some books! One was a gift from my friend Tim Porges, the new Neil Gaiman book, Norse Mythology. I had reserved it at the library, but was number 168 on the wait list, so he got it and had it sent straight to me. How kind!
Then, a long-awaited book from a Swedish seamstress on making Viking clothing, with great patterns:
My only problem with this one so far is that the measurement form for women's clothes gives the categories (e.g., height, bust, waist, etc.) in Swedish. Looks like time for Google Translate to come to the rescue! At the end of the week I'm expecting a couple of lengths of linen to make into a Viking underdress and apron dress, and I'm hoping the patterns in this book will help.
Last, but definitely not least, my quiver and arm-guard came. Now I am only awaiting my arrows (for SCA events they must be wooden, not carbon or aluminum; wooden ones are hard to find, so I ordered mine from Viking Archery Supply–Dayrl Merrell is a trusted vendor of arrows and bowstrings for SCA archers) and a glove for my right hand that actually fits in order to be fully equipped.
My quiver and arm-guard are from Joshua Krieger of Kreiger Mountain Crafts in southern Ohio. I found his shop on Etsy. He does mostly primitive and Native American archery items:
The arrows in the quiver are on loan from Count Cellach until I get the dozen I ordered from Viking.
Here is a much better photo of the quiver from Kreiger Mountain Crafts' site on Etsy. He also makes arrows.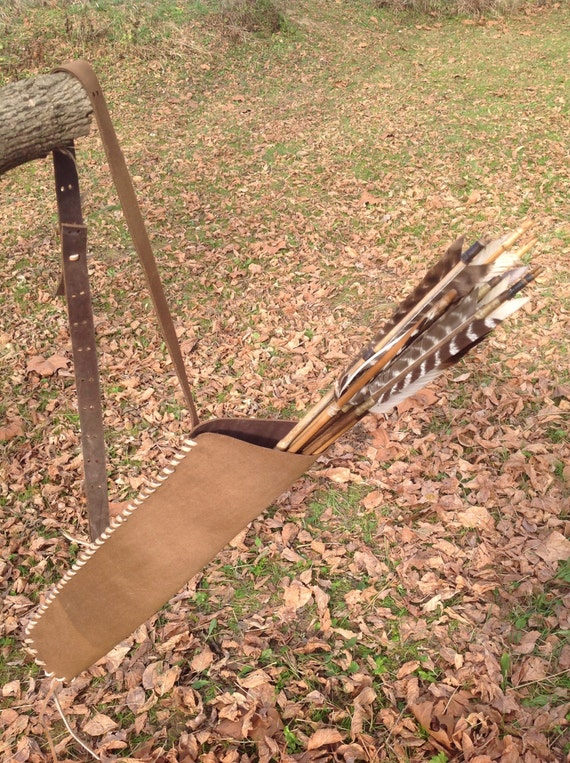 Today the weekend was finally, definitely over. No more spending money on fun stuff. Instead I spent a bunch of money getting work done on the brakes on my car. That was more expensive than everything else, combined. Oh well. You gotta do what you gotta do! 😛