Yesterday I trimmed the neckline of the underdress, although I'm not completely sold on the way the trim looks and might take it off.  It is upholstery braid in strands of gold and burgundy, matching the colors composing the tiny houndstooth check of the underdress fabric.
What do you think–should I leave the trim on or take it off?
Here's the way it looks with no trim:
In the top photos the necklaces that I'm wearing include a vintage amber necklace from Vikings At Your Door, a shop on Etsy that's now called CapitalCityKayak. I restrung the necklace, shortening it so that I would have amber to use for other pieces. I highly recommend this Etsy shop, which can be found here. I've bought a lot of jewelry from them, both vintage and new. Oona, the shop's owner, also made my very cool sheepskin hat, which gets lots of compliments whenever I wear it:
The next necklace is one that I made in part from beads I took from a Viking necklace that I bought in the gift shop at the Vikings exhibition last winter in Cincinnati, Ohio. It was the largest exhibit of Vikings artifacts ever to visit the United States. See my post about it at Major Vikings Exhibition 2017. Part of that necklace, which I strung on jute cord, are beads made of bone, as well as various odd beads that I have collected from time to time.
The third necklace, with the blue stone pendant, is one of my favorites. I got it from Etsy, too (are you seeing a pattern here? LOL), from a shop in Belgium that is no longer on the site. This necklace is also a vintage piece. I haven't been able to identify the stone. Here are the shop's photos: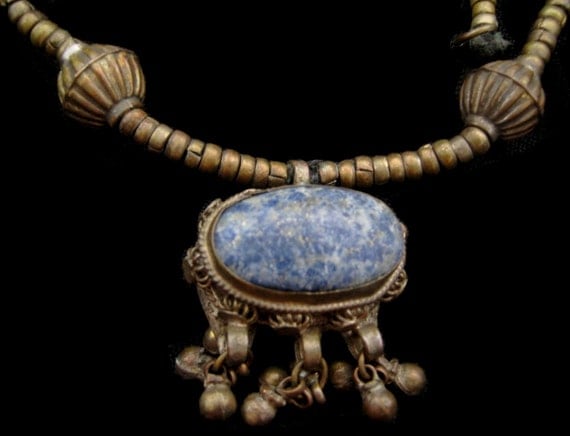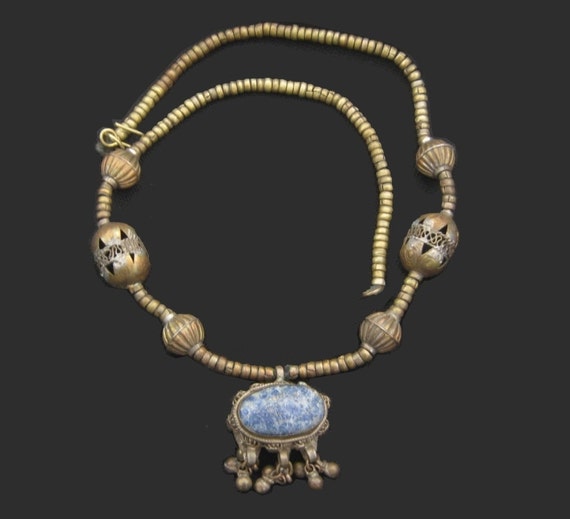 The red, yellow and black headband I'm wearing in the pictures in this post is tablet-woven. I got it from yet another Etsy shop called Nyfrid, which is in Sweden.  I also purchased from that shop a really nice wool smokkr, or Viking apron dress, which is in the photo above where I'm wearing the sheepskin hat, as well as some burgundy-and-gray trim, a gray-and-red Viking hood, and a gray underdress. Ingifridh, the owner of the shop, is wonderful to work with. You can find her shop here: Nyfrid.