I've been working on gathering the many layers that are recommended for Iceland's always-changing weather, keeping in mind that the average June high is 52-55 degrees F with lows averaging 40 degrees F. And that of June's 30 days, usually 15 have no rain.
Here's my plan so far:
My old Columbia rain jacket, mid-thigh length, no thermal lining, but a hood and tested for true waterproofing and breathability.
Two pairs of Eddie Bauer Incline hiking pants, water-resistant and breathable. I hated the waterproof Columbia rain pants I got last year. When I hiked in them in the rain, so much sweat dripped down my legs that it really made no difference that the moisture was not coming from the outside! And they were supposed to be breathable, too! 😦
I'll try one pair of the Eddie Bauer Incline pants as soon as we have a good rain here. They have a life-long guarantee for satisfaction. I like that, especially since there is a warehouse outlet store ten minutes from me where I can shop or return even online-purchased items!
The incline pants are a breeze to put on–they are pullups. And they have great pockets, all of which are large enough for my Samsung Android phone!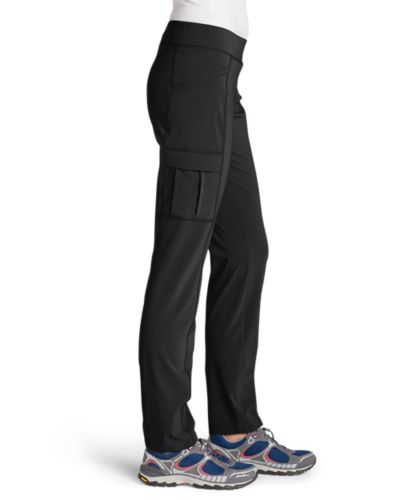 The Incline pants are also windproof, which I've heard is important, but they are not thermal, so I'm including 3 pairs of base layer footless tights for my legs, two lightweight, and one medium-weight.  They are by Paradox and also by Duofold.
Then wool and wool-blend hiking socks, in all three weights. Most of these I already had, since I hike a lot.
Footwear is so vital. I was going to spring for a new pair of Keen Targhee II Waterproof Low Hiking Boots, because I've loved my previous pairs so much. But the ones I've ordered simply don't fit, even when I try slight sizing changes.
So I'm just going to take my old Keen Targhee II hikers:
I'll baby my old Keens through this winter so that they'll have enough tread and laces in June. I'd love to take two pairs of hiking boots with me, but that's just not going to happen….
Then I'll also take a pair of sneakers, probably some New Balance ones that I already have. My feet are so hard to fit that when I find shoes that work, I usually stick with them until they totally give out. So once again, I'll try not to wear my New Balance sneakers too much between now and June, in the interests of having them available for the trip.
I think two pairs of shoes, plus flip-flops for swimming and maybe slippers, will be it for footwear.
Under my rain jacket, I could wear my old puffer jacket, but I may instead wear fleece jackets, two on very cold days, and only one on warmer days, with a thin layer under them. I already had plenty of fleeces, from Gander Mountain Guide Series. The key to this decision will be whether my raincoat is actually windproof! Iceland is amazingly windy…
For the thin base layer on top, under the fleece and rain layers, I'm going with technical active-wear in order to keep both warm and dry. I'll take my two old Nike long-sleeve tops with zip necks.
The new base layer tops are all by Tek-Gear because they are having a half-price sale. Yay! 🙂 Two long-sleeve tops with round necks, one short-sleeve top, and one slightly heavier jacket-style top with hood. These were my big splurge, but at half-off, it wasn't bad at all! 😛
The other advantage to this tech gear is that it all dries very quickly, whether from washing in a basin or getting soaked in the Iceland rain or my sweat as I hike. And it packs down much better than cotton does.
I may be able to use my base layers as pajamas. I'll check that out.
Then of course I got a swimsuit, having "grown out" of my old one. In fact, my "growing spurt" is the reason I'm having to buy some new things. 😦
I got a really inexpensive, nice, big microfiber towel for using at the pools and spas, and after showering at the hostels. It will dry quickly. I'll try its drying time out and if necessary get a second one. It folds up very thin and comes with its own waterproof pouch (except for one corner which is mesh so that it doesn't have a chance to mildew).
Finally, I'll be taking with me a couple pairs, at least, of gloves (driving gloves, wind-proof gloves, and water-proof gloves, all of which I already have, except for the driving gloves), and a couple warm ski-type hats, as well as a truly warm scarf or two.
Since I live in the Midwest of the USA, I'm well-equipped already with ski hats, scarves, and warm gloves. 😛
The wind in Iceland is supposed to be pretty ferocious, and I am prone to earaches. When I lived in San Francisco, the wind there always made my ears hurt and consequently I always wore ski hats.
(Oh, and of course I'll pack enough underwear, but we don't need to go there! 😛 )
It's really helpful to see how people are dressed in YouTube videos of their trips to Iceland, and to read packing tips and lists on blogs of travelers, as well as Iceland's own public tourist-agency sites, of which there are a plethora.
Although some sites recommend bringing one fashionable outfit, complete with shoes, I won't be doing that because I don't plan to go out to eat at any fancy restaurants or hit the trendy Reykjavik bar scene.
Here's everything aside from my raincoat, bathing suit, towel, hats, gloves, and scarf:
So there you have it. Can you think of anything I've left out? 😛