Finally, it is less than six months till my trip to Iceland! I had a trip planned and paid for in 2017 that was cancelled due to injuries from an accident, and it has taken this long to reschedule my longed-for Iceland adventure.
I have covered the sights I hope to see that lie out in the countryside of Iceland elsewhere in my blog. See  Day trips I'm planning to do in Iceland;  Iceland's South Coast by day trip.
So this post is about things I want to see in Reykjavik, the capital city of Iceland. I'll be staying for the duration of my trip at Loft Hostel, which is located in the city center. When I looked for pictures of it, I discovered that there are other, similar-looking Loft Hostels in places such as Moscow, Barcelona, Budapest and Thailand!
But here are some photos of the particular Loft Hostel in Reykjavik where I'll be staying. All pictures are available at the Hostelling International website: https://www.hihostels.com/hostels/reykjavik-loft-hostel.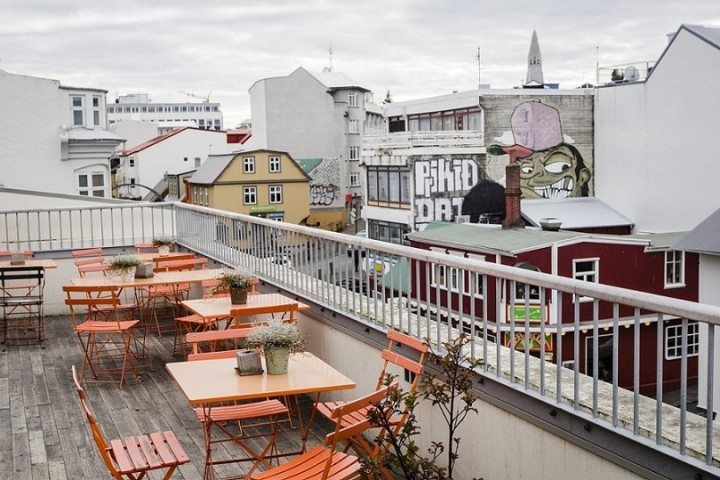 And finally, a picture of one of the dorms. My reservation is for one of the six-person female dorms, which I've heard are quieter than the coed dorms:
By the way, many buildings in Iceland are clad not with wood or vinyl siding, but with corrugated iron, which usually is colorfully painted. The first generation to settle Iceland chopped down all the trees for building and firewood, and thereafter wood for building had to be imported by ship from Norway. This is mentioned several times in the Icelandic family sagas.
Trees are still scarce in Iceland, although there is now an ongoing effort by Icelanders to plant new trees. Most of the trees now standing are dwarf birch trees, which are not good for building. Hence the creative use of corrugated iron cladding, as well as some other materials.
Some of the places I plan to see in Reykjavik include the amazing Harpa concert hall:
Inside Harpa you can hang out for free if there is not a ticketed event going on:
The above photo, as well as the following photographs of Reykjavik, are from the site https://www.beerandcroissants.com/self-guided-walking-tour-reykjavik/, (unless otherise credited), which gives a nice itinerary for a self-guided walking tour of the capital.
More of the colorful streets around the center city area of Reykjavik:
Closer view of Hallgrimskirkja:
I hope to ride the elevator inside Hallgrimskirkja to the top, for what's billed as an amazing view, if I am strolling around on a clear day. Even in the summer, rain, mist and low clouds are frequent and any given day can be clear, then rainy, then cloudy, then misty, then clear again. But one thing you are always guaranteed in Iceland is WIND! 😛
An important building to me is Culture House, not only for its exhibits of Iceland's history and culture, but also for the fact that most of my bus tours are scheduled for pickups at the Culture House bus stop! So I'm glad to get to see what it looks like:
And there is a park next to it. My hostel is apparently quite nearby. I'm waiting for another Reykjavik city map that will hopefully lay things out a little better than the one I already have. Although I've also heard that the hotels, and hopefully my hostel, give out good free city maps, as well.
I'm ending with a photo of the Old Harbor, where my puffin tour starts on the second real day of my trip. The first date on my plane ticket doesn't count because I'll be flying all night and landing in Keflavik at the International Airport the next morning:
It's a lot to take in during the day and a half that I don't have tours or a horse ride scheduled.  I might scrap the Game of Thrones tour to give myself more museum and city wandering time. We'll see what happens when I'm there.
But since my hostel is in the city center, I'm hoping to be able to take in these sights and maybe another museum in addition to Culture House, perhaps The Settlement Exhibition Reykjavik 871+/- 2. From its Wikipedia article.
The focus of the exhibition is the remains of a hall from the Settlement Age which was excavated in 2001. The hall was inhabited from c. 930–1000. North of the hall are two pieces of turf, remnants of a wall which was clearly built before 871±2, hence the name of the exhibition. Such precise data dating is possible because a major volcanic eruption from the Torfajökull area spread tephra across the region and this can be dated via glacial ice in Greenland. The hall is among the oldest human-made structures so far found in Iceland. Also on display are objects from the Viking Age found in central Reykjavík and the island of Viðey.
The Norse came to Iceland in what is called the Settlement Age, which lasted from the late 800's C.E. to around 1000 C.E.  These are the same people who were called Vikings when they raided other communities. But Vikings is a misnomer here, because these Norse explorers didn't have to raid and pillage the virtually unpopulated island of Iceland. Instead they settled the land.
This period in Iceland, which is described so well in the Icelandic family sagas, is the one I am most interested in. So I think this is definitely one of the museums for me! 🙂