I had to get on Etsy recently to look for dragon charms that we can use as tokens showing proof of payment for admission to our local annual SCA event, Red Dragon, in October
I found some that are just right, in size, design, and price. They are coming from China:
But while I was on Etsy, I gave in to the "siren song" of looking at Viking clothes available to order.
This in spite of the fact that I have great fabric on hand to make a wonderful new Viking outfit for myself in time for Red Dragon.
Still, I found some things that I simply could not resist. 😛
At the Etsy shop in Belarus called NornasMystery, these beautiful items called to me, and I'm now waiting for them to make their way to my home in the USA: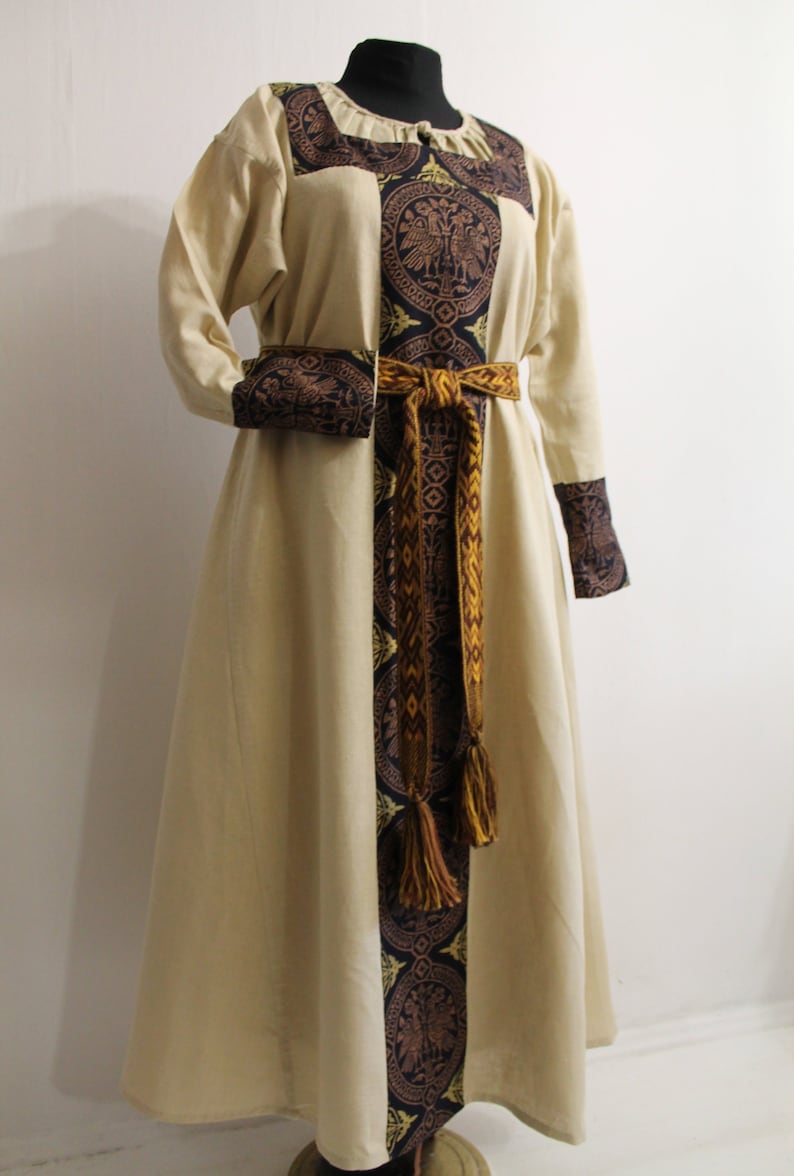 The dress is a medieval style in linen appropriate for Viking and Slav reenactment. The designs are hand-stamped on the linen inserts.
The bag is wool, with a silk panel and a wooden handle in the style of finds from the Viking settlement at Birka.  Birka was located on an island in present-day Sweden.
A site at https://www.birkavikingastaden.se/en/about-birka/ , which is dedicated to the history and significance of Birka, says this:
A town was born

In the mid-700's, a city was born on Björkö in Lake Mälaren named Birka, a location, which is commonly called Sweden's first town. It is believed that it was the Swedish King who took the initiative to form the city as part of a desire to control the trade in northern Scandinavia, both politically and economically.

The Swedish King himself was living a few kilometers away, at a place called Hovgården on Adelsö. At that time it was the King's duty to keep order in the city and protect it from being looted.
The perfect trading area

Merchants and tradesmen came to Birka with goods from all over Europe and other parts of the world. We know this through archaeological excavations, were they found Arabic silver, beads from Eastern Europe, beautiful glass goblet, ceramics and exclusive fabrics. These goods were traded for exclusive goods that we have here, for example, iron, skins, horns and fur. In the city worked many different kinds of craftsmen like comb makers, blacksmiths, weavers and others. They lived in simple houses that were arranged in rows down towards the docks.

A flourishing city

During two hundred years Birka was a thriving city and Sweden's most important place for trade throughout northern Europe. The city had a perfect location because it was centrally located, but also well protected in the Baltic Sea. Birka had about 700-1000 inhabitants.
No one really knows why Birka was abandoned after 200 years. However, it is now an important site for all the Viking artifacts that have been found there, including bags with wooden handles like the ones on the bag I ordered.
I must say, though, that a key factor in my decision to get the bag is that the design stamped on the silk panel has two kitty-cats with wings, facing each other, in the center. 🙂
The green and gold Viking cloak simply took my breath away. It is of heavy wool with the designs stamped on it.
The cloak requires a brooch to hold it together, so I ordered this one from the Etsy shop QuirkySues in British Columbia, Canada: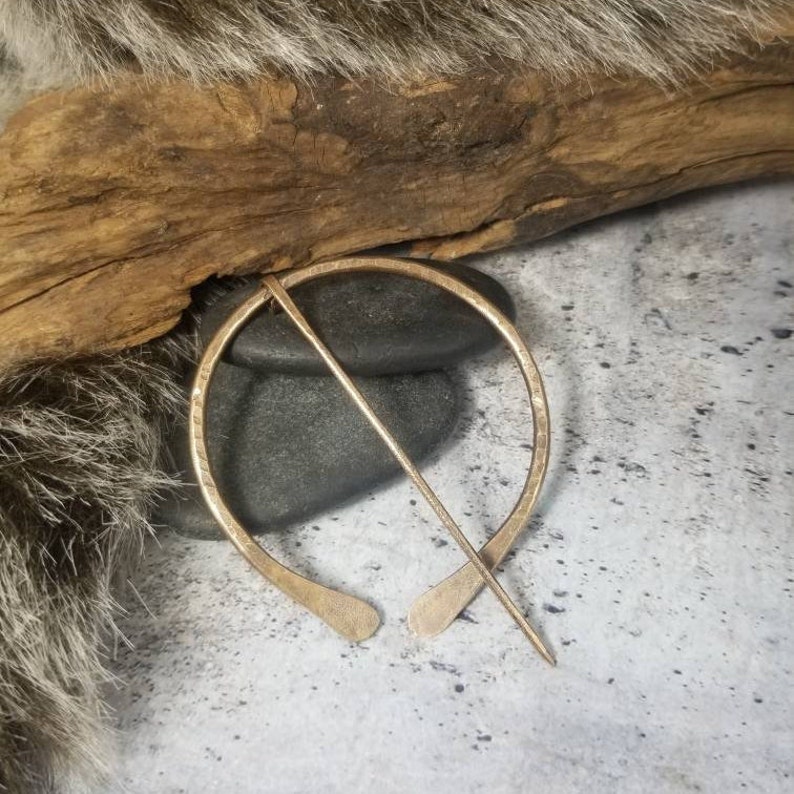 I just received it in the mail today, the first item to have come in from all the things I ordered. I'm very pleased with it. It is a penannular brooch, the term "penannular" meaning incomplete circle. Brooches in this style were used to fasten cloaks as far back as Roman times.
Now to get the cloak!
I also ordered some braid with which to belt the dress (the braid in the photo is not included with the dress) and also some to wrap around my headscarf. I found just the right handwoven (tablet or card woven) trim to use from an Etsy shop in Lithuania called VytuVatu. This is the braid for my head: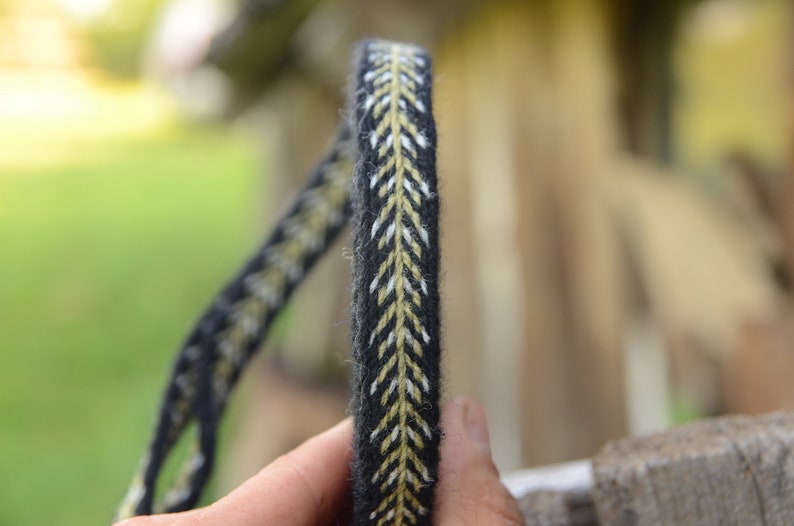 And this is the braid for the belt: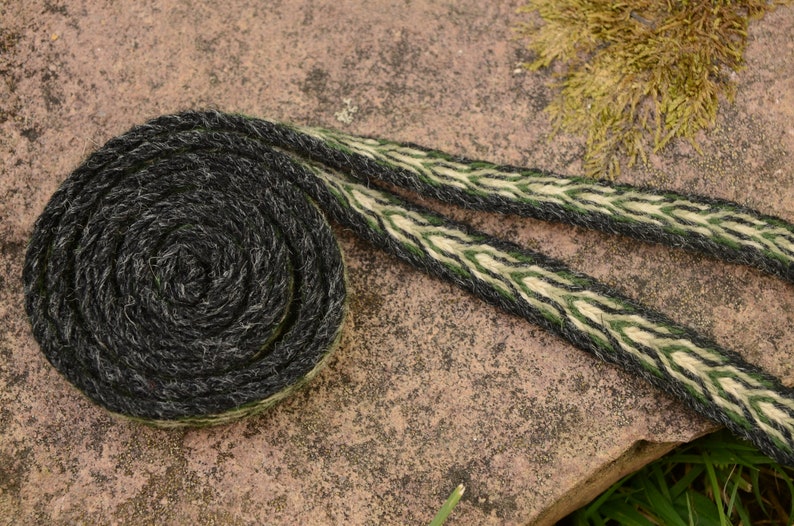 I think everything will look quite lovely when I finally get it! I must add that everything is handmade. ❤