Things I'm doing virtually during the COVID-19 lockdown include participating in an online presentation, complete with Q&A session, by a noted Iceland scholar on the Icelandic family sagas and a week-long painting school in Portugal.
The first thing, the saga presentation, happened on the Facebook page, Iceland Naturally, this past Monday, April 13th. Professor Gisli Sigurdsson, a professor at the University of Iceland, who has taught at many other universities and has a string of books to his credit, gave the presentation. The video can still be accessed at:
Professor Sigurdsson received many more questions than he could answer during the live session.
I was really happy when I discovered through Facebook notifications that he had answered all my questions later, especially my question about another kind of saga called fornaldursogur, or legendary/heroic sagas. I have been studying them lately, and I wondered what he thought of them.
He said that he thinks they are "highly entertaining and form an integral part of the storyworld drawn up in the sagas, just farther away in time and space from the storyteller than the Family sagas."
That was a good perspective for me to take.
I also really liked the slides showing pages from the original manuscripts. The illustrations were very enjoyable and enlightening, although they come from the time when the sagas were written down, in the 12th through the 14th centuries, whereas most of the sagas are about the tenth century period when Iceland was being settled.
Unfortunately I haven't been able to copy any of the slides from the presentation. But here are some other saga manuscript illustrations.
This is the illustration that saga fans are most familiar with. It shows Egil Skallagrimsson, the famous warrior-poet, but it is actually from a much later, 17th century manuscript:
Another one is of Grettir the outlaw, which looks to me like it may have been painted by the same artist:
This page is from Flateyjarbok, a 14th century manuscript written and illustrated by two monks. Its artistic style is much more like other medieval illustrations I've seen from the 14th century, and is quite different from the 16th century figures of Egil and Grettir: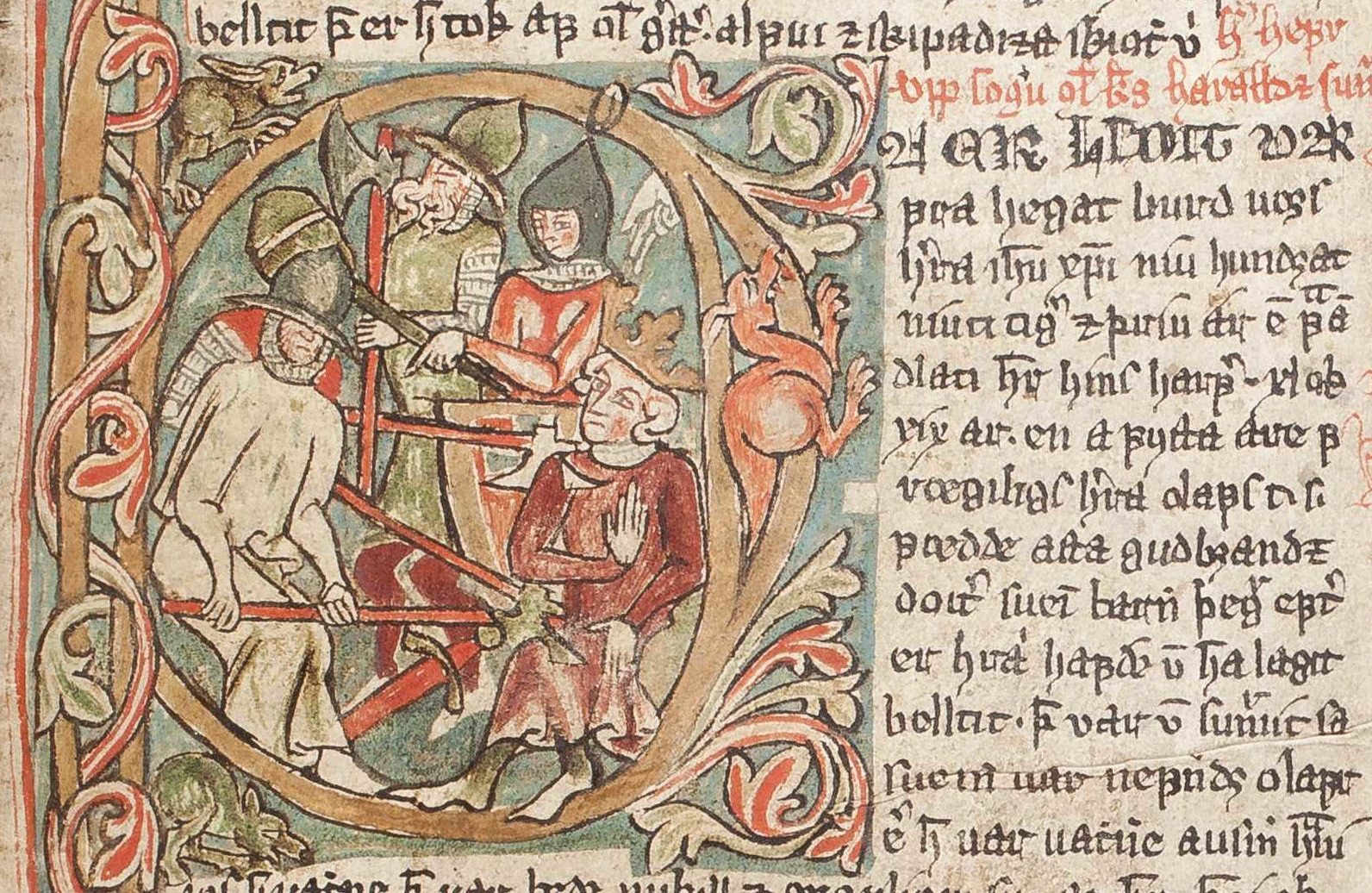 While we're thinking about art, let's turn to the warmer clime of Portugal.
My blogging friend, the London artist Janet Weight Reed, is doing an online version of her annual week-long painting school in Olhao, a small town in Portugal. Her school is called Art in the Algarve.
Usually her school is in person, but due to COVID-19, this year it must occur online. This is actually a bonus for me, because I've never been able to make it to Portugal.
You can find the posts for this week of her virtual art school beginning at:
https://jcrhumming.wordpress.com/2020/04/15/arrivals-day-a-virtual-week-of-fun-and-creativity-at-art-in-the-algarve/
Janet is an amazing artist whose magical hummingbirds have delighted me through the years, as well as a great teacher online. I bet she is even a better teacher in person!
Her entire blog on WordPress, called My Life as an Artist (2) is definitely worth checking out. 🙂