Two days ago, while idly watching my bird feeders from my couch in the living-room, I realized that I was seeing a bird that was completely new to me.
A bird species that you've never knowingly seen before, but which you have now gotten a positive identification for, is called a "life bird" in birding circles.
Luckily for me, this bird sat posing for several minutes on top of my privacy fence, above the feeder. That gave me more than enough time to consult a field guide and make a positive identification.
The bird was an adult male Rose-breasted Grosbeak! 🙂
This species is in the family of Cardinals, Grosbeaks, and Buntings.
Rose-breasted Grosbeaks are not very common in my area, which is central Ohio, USA.
Take a look at the article about it on the online Audubon field guide: Rose-breasted Grosbeak, from the online Audubon Field Guide.
Here is their range in North America:
I'm located in central Ohio, between the light pink and gray areas, which means that it's uncommon to find this bird in either the breeding season (like now), or in any season at all.
(Ohio is the state bordering the southern shore of Lake Erie, which is the second lake from the right in the dark red area on the above map.)
I'm very fortunate to have gotten to see this handsome guy!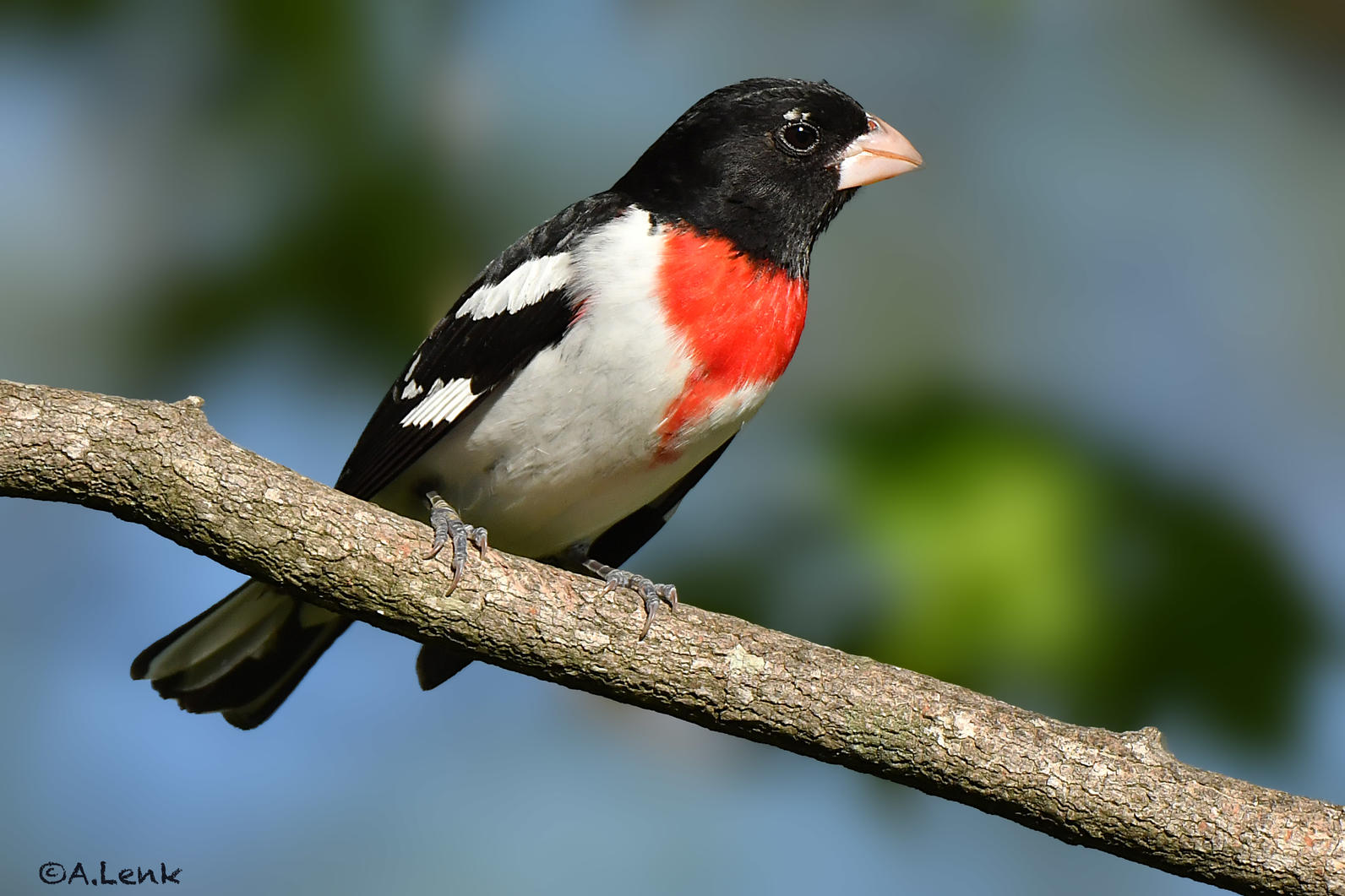 I think I may have seen a female one, too, although the females are more difficult to ID. Still, the body shape and size, as well as its striking "eyebrow," and the fact that I had just seen the male, makes me fairly confident in my identification.
Here's a photo of an adult female Red-breasted Grosbeak:
I've been working on bird identification in the Cornell Lab of Ornithology Bird Academy online class, "Joy of Birdwatching." See my earlier post, "Bird Academy."
One thing I've learned through that course is to pay attention to the shape of a bird, as well as its size.  "Field markings," which are the colors of the bird, were what I used to ID the adult male. But shape helped in my tentative ID of the adult female. She is more plump than the various similarly-colored birds that I see in my area.
Adding a new life bird is always gratifying.
But the fact that the Rose-breasted Grosbeak is an uncommon species for my area, and that I got to see it at close range for several minutes from the comfort of my couch, make this life bird especially rewarding. 🙂